Description
Features:
The unit comes assembled and complete with 1 x 10 inch DGD filter, 1 x 10 inch KDF-GAC filter, 2 x 10 inch housings, a stainless-steel mounting bracket, ball valve, Anka fittings and a housing spanner.
The DGD filter is a high capacity sediment filter. With a 25 micron outer shell for larger particles and a 1 micron inner shell for finer particles and cysts. Effectively you are getting two filters in one.
The KDF-GAC filter is a two media cartridge consisting of KDF media (high purity copper-zinc alloy) and GAC (granulated activated carbon).
Through the electrolytic and oxidation reactions of the KDF and the adsorption and entrapment capabilities of the GAC, the KDF-GAC filter can remove or greatly reduce a wide range of contaminants.
Removes / Reduces:
Removes up to 98% of chlorine and dangerous by-products
Reduces heavy metals like lead, arsenic and mercury
Removes pesticides and other chemicals
Helps avoid skin irritation when bathing / showering
No chemical additives in the water
Removes particles, sediment and rust down to 1 micron
Helps control Scale
KDF controls the build-up of bacteria, algae and fungi in the filter
Better tasting water and no bad odour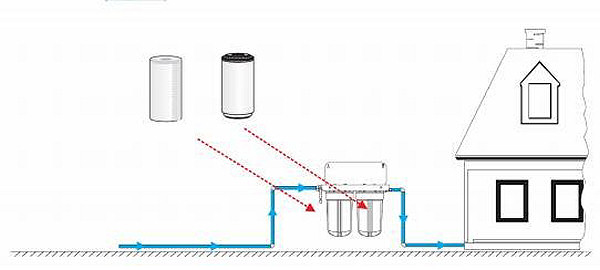 For Auckland installations, we recommend Straight Up Plumbing – call Floyd on 027 255 4432